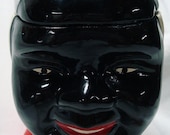 Just listed some stuff from my personal collection. When I lived in Ocean Beach I had a couple pieces. When I moved to Oakland I started to collect more and people got me more from all over the US!
One of my personal favorites is this large cookie/biscuit jar! It was purchased for me as a gift in St. Louis. She was found in a vintage shop by my ex-mother-in-law. She\'s a beauty. The jar, not the ex-mother-in-law! :)
Large Aunt Jemima Cookie and Biscuit Jar!
This amazing piece is in excellent shape!
The entire jar stands 10" tall and measures 5 1/4" x 5 1/4" at the base. The base alone is 6 3/4" tall.
This piece would be a wonderful addition to any collection of Black Americana and any retro or vintage kitchen! Great for cookies, biscuits, dog biscuits or any other trea...
Click Here to Visit My Etsy Shop!